Laboratory of Molecular Diagnostics and Therapeutics (Takuya Mizuno & Masaya Igase), Joint Faculty of Veterinary Medicine, Yamaguchi University
Main aim of our laboratory is to elucidate the tumorigenesis of canine cancers, develop a novel therapy for canine cancers and apply it to clinical medicines.
The watchword of our laboratory is "Clinic to Bench, Bench to Clinic".
Among routine practice, there are many refractory diseases.
We want to solve them one by one in the laboratory and we want to save many animals.
Collaboration will be welcomed with not only veterinary organizations but also medical departments and pharmaceutical companies (please refer to the research contents).
Based on the results obtained in our laboratory, a clinical trial using a novel treatment for a refractory tumor (cancer) of dogs is conducted at Yamaguchi University Animal Medical Center (For details, please feel free to contact Mizuno)
PhD students wanted!!
In the PhD course, you can choose your research topic based on your interest.
You can learn laboratory techniques, such as molecular biology (PCR, DNA, RNA), protein (western blotting, protein purification, ELISA, and so on), cell biology (cell culture, flowcytometry), and obtaining monoclonal antibodies.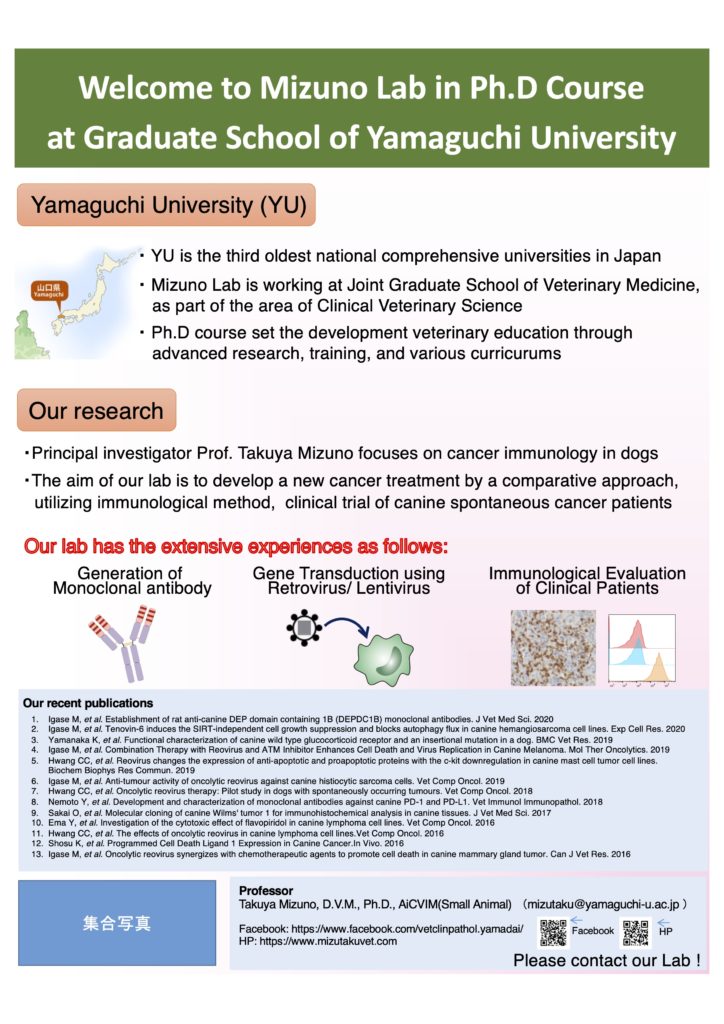 最新記事